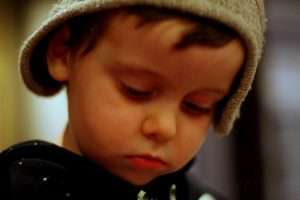 Experience has shown me that a lot of people must think of God as a "cosmic-killjoy." They hear about the long list of do's and don'ts in the Bible, and assume that God is mainly interested in keeping them from doing what makes them happy.
Not only that but because we are only human, we know that we can't do everything that God demands. On top of that, learning about more things that we need to stop doing (or start doing) only adds an extra load of guilt for us to carry around all the time. Who would want that?
If you tend to think of God as a "wet blanket," you probably avoid things like reading the Bible or going to church, because they remind you of the One you think is plotting against your happiness. You don't have to feel that way. I'm going to show you that knowing Jesus personally actually supplies amazing joy.
Let's start with the most obvious truth. Every follower of Jesus can look forward to an eternity that is filled with unending pleasure. King David made this clear when he talked to God about what the future held for him, "In Your presence is fullness of joy; in Your right hand there are pleasures forever" (Psalm 16:11).
Don't dismiss eternal joy by saying, "Sure, but that's in the far off distant future. It doesn't help me now." Remember that right now you can choose Jesus and begin traveling an eternal path that will lead to that joy. Although eternity may be many years away for some of you, once it starts, it will never, ever end. It is very important for you to know for sure that eternal life with God is guaranteed. When this life is over, there are no second chances.
The "sweet by and by" is not the only time Christians can have enduring happiness. We can have it right now! We don't have to wait until we get to heaven. Jesus Himself promised that. He said, "These things I have spoken to you so that My joy may be in you, and that your joy may be made full" (John 15:11).
Where do we find that joy in the "here and now"? Jesus revealed the secret when He called it "MY joy." Joy is found in knowing and following Jesus. It is not a small joy. It is not something we just pretend to have when we are around church folks. Jesus explained that He "… came that

[we] may have life, and have it abundantly" (John 10:10).

How can we tap into Christ's unchanging joy, a joy that doesn't depend on our circumstances? Jesus pointed the way. Real lasting joy begins when we put our complete trust in Him. "Now on the last day, the great day of the feast, Jesus stood and cried out, saying, 'if anyone is thirsty, let him come to Me and drink. He who believes in Me, as the Scripture said, 'From his innermost being will flow rivers of living water'" (John 7:37–38).

Here is an important irony. Lasting happiness doesn't happen when we go after what we think will make us happy. Happiness is available when we discover why God made us in the first place. Augustine, (354-430 AD) a leader in the early church, wrote this prayer: "You have made us for yourself, O Lord, and our hearts are restless until they rest in you." A.W. Tozer (1897 – 1963), an American pastor from Pennsylvania, put it this way: "One of the greatest tragedies that we find, even in this most enlightened of all ages, is the utter failure of millions of men and women ever to discover why they were born…."

The Bible makes this point in Romans, Chapter 1, verses 18-25. It says that even though God has revealed a lot about Himself through what He has made, instead of worshiping Him, the God who made everything, mankind has chosen to worship the things they see around them. In other words, we all tend to look for joy in the temporary things of this world, instead of finding it in the eternal God who made everything.

How is it that the followers of Christ can find joy from God? It's because God lives inside of them. "Or do you not know that your body is a temple [dwelling place] of the Holy Spirit who is in you, whom you have from God, and that you are not your own? For you have been bought with a price: therefore glorify God in your body" (1 Corinthians 6:19–20).

When our spirits become dwelling places for God's Spirit, God's joy can become our joy. There is nothing like it!

If you would like to pursue some of the tangible things that make Christians happy, here are seven amazing things to think about. (I borrowed them from an article in Christianity Today. See https://goo.gl/Q9ZwLR)
Christians have eternal life! John 3:16, 1 John 5:11-13
Christians are loved by God! Romans 5:8
Christians are totally accepted by God! Romans 8:1
Christians are adopted into God's family! Romans 8:15-17
Christians can talk directly to the King of the Universe! Hebrews 4:16
Christians have a reason for living! 2 Corinthians 5:18-20
Christians have a hope for a great future! Ephesians 1:18, Titus 3:7
I hope you can agree with this Bible message: "… Do not be grieved, for the joy of the Lord is your strength" (Nehemiah 8:10). I'm praying that you will find that kind of joy.