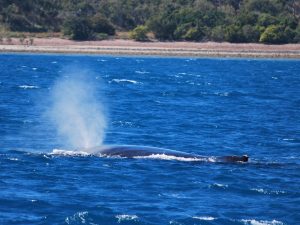 Have you ever timed yourself to see how long you can hold your breath underwater? The world record is 24 minutes, but that person trained for a long time first and "cheated" by breathing pure oxygen before going under the water. The average, untrained person gasps for air after only 30 seconds. That would include me.
With that in mind, did you know that although sperm whales have lungs that are proportionally smaller than ours, they can hold their breath for 80 to 90 minutes at a time? How is that possible?
The lungs that whales have, work like ours do, but God has created them to make more efficient use of each breath. In a single breath, our lungs absorb about 15 percent of the oxygen we inhale. Whales, on the other hand, absorb as much as 90 percent of the oxygen they breathe in! Not only that, they store excess oxygen in a special protein called myoglobin. Whales have more myoglobin than other animals, so they can store large amounts of oxygen at a time. [Want to learn more? See http://scienceline.ucsb.edu/getkey.php?key=1009]
We are so different. We need to breathe often. In fact, we have been created with many, many needs. Have you ever wondered why God made us so dependent on Him? He could have made us like the angels in heaven, but instead, He made us needy. Not only are we continuously dependent on Him for air, but we also need regular amounts of food, water, and sleep. We all know what happens to us when we don't get those things regularly.
I think God made us very dependent on Him for physical things to help us realize how dependent we are on Him for our emotional and spiritual needs as well.
We like to think of ourselves as tough and self-sufficient, but it isn't true. We all desperately need our Creator to meet our needs constantly.
The problem is that we can easily forget or ignore this truth. For that reason, Jesus told us to pray, "Give us this day our daily bread." Bread stands as a metaphor for our basic, daily needs. When we regularly ask God to meet our common, everyday needs, it teaches us some wonderful, life-changing truths.
For example, every time a follower of Jesus asks for daily bread, he or she is reminded that God is a good, generous Father. How can we needy humans claim Almighty God as our Father? It is because of the work that Jesus did on the Cross (see 1 Peter 1:17-19). Isn't it good to know that we can, "…draw near with confidence to the throne of grace, so that we may receive mercy and find grace to help in time of need" (Hebrews 4:16)?
When we ask the Lord to supply our basic needs every single day, it also keeps us in regular contact with our God. It is wonderful to know that God wants to hear from us! God wants us to talk to Him because He is a God who loves, who feels, and who communicates. We know this is true because God has revealed Himself to us through creation (see Psalm 19:1-6).  He has also revealed Himself through the life of Christ: "in these last days has spoken to us in His Son, whom He appointed heir of all things, through whom also He made the world" (Hebrews 1:2). He has revealed Himself through the Bible, His written Word, too: "For the word of God is living and active and sharper than any two-edged sword, …  and [is] able to judge the thoughts and intentions of the heart" (Hebrews 4:12).
God's desire to communicate with us was beautifully illustrated all the way back in the Garden of Eden when God first created human beings. Every single day, the Lord spent intimate time with Adam and Eve in the Garden before they rebelled against Him (Genesis 3:8)!
If you feel like the world has knocked the breath out of you, that you are gasping for air, stop living as if you were a whale. You need to come up and start breathing the sweet, refreshing spiritual air that God wants you to depend on Him for. Turn to Him often, as often as you need to breathe. Life gets hard and stale when we are not regularly breathing the spiritual air that God has provided for us.
Come to Christ because He is the only One who can give you that spiritual air that you were created to breathe. "Thus, says God the Lord, who created the heavens and stretched them out, who spread out the earth and its offspring, who gives breath to the people on it and spirit to those who walk in it" (Isaiah 42:5).
God Himself sends out this invitation to you: "Ho! Everyone who thirsts, come to the waters; and you who have no money come, buy and eat. Come, buy wine and milk without money and without cost. Why do you spend money for what is not bread, and your wages for what does not satisfy? Listen carefully to Me, and eat what is good, and delight yourself in abundance. Incline your ear and come to Me. Listen, that you may live…." (Isaiah 55:1–3).
Everyone who turns from sin and comes to Christ finds their spiritual lungs filled with God's refreshing presence. "Therefore, repent and return, so that your sins may be wiped away, in order that times of refreshing may come from the presence of the Lord" (Acts 3:19).
When you become a Christian, you can take a deep breath and claim this promise from the One who made you: "Do not fear, for I am with you; do not anxiously look about you, for I am your God. I will strengthen you, surely, I will help you, surely, I will uphold you with My righteous right hand" (Isaiah 41:10).