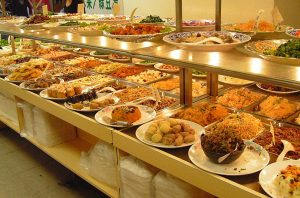 I know you will agree that the year 2020 has NOT been anything like what we expected. We are all longing to see life get back to some semblance of normal. We have seen a few glimmers of normal in the economy lately, but we still have a long way to go. Sadly, some things may never be normal again because of Covid-19. Experts are predicting that buffets may be one of them.
That is sad if you like going to buffet restaurants. Ron Dentinger joked that buffet is a French word that means, "Get up and get it yourself." When you are with a big group, though, it is especially convenient. Everyone gets to choose what they want, and it doesn't take long to get the food. Don't like seafood? No problem. Skip over it, and look for something you do like. Maybe it's the roast or the chicken or the salad bar that satisfies your cravings. Even if you take something that doesn't taste good to you, you can just leave it on the table and go back for something else.
When I was younger, I loved buffets. I'm not much of a buffet fan anymore, though, because they tend to make me eat too much. It's not just because my appetite gets out of control, but I'm cheap and tend to eat until I get what I think is my money's worth.
Buffet restaurants have their advantages because you can pick out just the things you like. Buffet religion, on the other hand, is never a good idea.
The Apostle Paul encountered a vivid example of this when he visited the ancient city of Athens, Greece [see Acts 17:16-34]. Paul had arrived in the city alone. While he was waiting for Timothy and Silas to join him, he began walking around Athens, taking in the sights. He noticed that the city was filled with statues dedicated to many different religions. There was a god for almost everything. All you had to do was wander around the city, pick out the god (or gods) that you wanted to worship, and you were good to go.
Some key city officials overheard Paul talking to local citizens about Jesus and His resurrection. Since it sounded like Paul was introducing a new god—who could be added to their menu of god's—they invited him to lecture at the Areopagus (an important public meeting place). A crowd gathered, eager to hear about this new "god" because "all the Athenians and the strangers visiting there used to spend their time in nothing other than telling or hearing something new" (Acts 17:21).
Paul used this opportunity to explain to the citizens of Athens that there is only one true God and that He created everything. This God is so great that He doesn't need anything from us [Acts 17:24-25]. Paul went on to explain that this one true God, who created mankind, is intimately involved in their lives and wants to be close to each of them [Acts 17:26-28].
Then Paul shocked his audience. He told them that one day God will step in to the world's affairs and hold mankind accountable for rebelling against Him. The coming judge of the world will be Jesus Christ, who raised Himself from the dead [Acts 17:30-31]. That message caused a stir. It wasn't a popular item on the Athenian's religious buffet. Like the wayward Jews of old, they only wanted to hear "…pleasant words… illusions" (Isaiah 30:10).
The only difference between Athens in Paul's day and Philadelphia in our day is that the menu has changed somewhat. We still have a smorgasbord of religious choices, though. For example, many people believe that God is loving. They concentrate only on His love and choose to ignore that God is also holy and that He hates sin. "Your way, O God, is holy; what god is great like our God?" (Psalm 77:13). God's love and His holiness are both true.  Believing in both of these truths is necessary in order to know who God really is and to have a relationship with Him.
Holiness is important because a holy God requires complete holiness for those who will spend eternity with Him [Isaiah 35:8; Habakkuk 1:3]. Love is necessary because that is what motivated God to rescue us [John 3:16]. The truth is that all of our sins must be removed. That only happens when we accept the payment for our sin that Jesus Himself purchased when He died on the Cross. "He [God the Father] made Him [Jesus: God the Son] who knew no sin to be sin [on the Cross] on our behalf, so that we might become the righteousness of God in Him" (2 Corinthians 5:21).
The Bible explains everything we need to know about God. We must accept Him for who He is, not as what we would like Him to be. Be careful that you don't look at the truths about God and only pick out what makes you feel comfortable—that you are not just choosing the things about God that look good to you.
God did not give us the Bible like a buffet line. It's not filled with truths so we can choose what looks good to us. Instead, the Bible delivers a mandate for us to believe it all.
God is unique. "… I am God, and there is no other; I am God, and there is no one like Me, declaring the end from the beginning, and from ancient times things which have not been done, Saying, 'My purpose will be established, and I will accomplish all My good pleasure'" (Isaiah 46:9–10).
Feast your soul on Jesus. "There is salvation in no one else; [except Jesus Christ] for there is no other name under heaven that has been given among men by which we must be saved" (Acts 4:12). He alone will satisfy your soul!