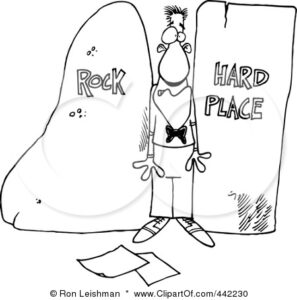 Do you feel like you are trapped between a rock and a hard place right now? We have all been there. It might be a financial problem. Maybe your bills outweigh your income, and there doesn't seem to be any way to get more money or to spend any less. Maybe your health is bad, or a once cherished relationship appears doomed. Sometimes life closes in on us, and we don't know where to turn.
The Bible has a fascinating story that illustrates what God can do when there appears to be no human solution to a difficult problem. You can read the story in the book of Exodus, Chapter 14.  It's about a time when the Jews found themselves between a literal "rock and a hard place."
After four hundred years in Egypt, God delivered the Jewish people from slavery by doing many awesome miracles. They marched out of Egypt a free people! Pharaoh's army came after them, though, and they were trapped between mountains on either side and the Red Sea in front of them. What could they do now? God gave them a way to escape that seemingly impossible situation, and He can take care of us as well. We need to follow the same advice that Moses gave to the Jews. Let me show you the three steps to a miraculous solution that God revealed to Moses.
First, we must be willing to let go of the familiar. The Jews hated slavery, but that was all they knew. When things got tough, they wanted to go back to what was familiar. They cried, "Leave us alone that we may serve the Egyptians. For it would have been better for us to serve the Egyptians than to die in the wilderness" (Exodus 14:12). If you have decided to pursue Christ, don't despair when the way gets difficult. Paul expressed the right mindset when he said: "One thing I do: forgetting what lies behind and reaching forward to what lies ahead, I press on toward the goal for the prize of the upward call of God in Christ Jesus" (Philippians 3:13-14). Keep following Jesus and doing right, instead of going back to the old life that can seem easier.
Next, we need to trust what God says. God had promised to deliver the Jews. Now they had a choice: whether to believe God or not. "But Moses said to the people, 'Do not fear! Stand by and see the salvation of the Lord which He will accomplish for you today…'" (Exodus 14:13). We must be convinced that God is big enough to solve our problems. Then we must trust God to do what we cannot do. "Trust in the Lord with all your heart and do not lean on your own understanding. In all your ways acknowledge Him, and He will make your paths straight" (Proverbs 3:5-6). We must stop panicking and expect God to do what He has promised He will do. "The Lord will fight for you while you keep silent" (Exodus 14:14).
We say, "It's impossible." God says, "All things are possible" (Mat 19:26)
We say, "I am too tired." God says, "I will give you rest." (Mat 11:28)
We say, "Nobody really loves me." God says, "I love you." (John 3:16)
We say, "Nobody really cares for me." God says, "I care for you." (1 Peter 5:7)
We say, "I cannot go on." God says, "My grace is sufficient." (2 Cor 12:9)
We say, "I cannot figure things out." God says, "I shall direct your paths." (Prov 3:6)
We say, "I cannot do it." God says, "You can do all things through Christ." (Phil 4:13)
We say, "I am unable." God says, "I am able." (2 Cor 9:8)
We say, "I am not worth it." God says, "It will be worth it." (Rom 8:28)
We say, "I cannot forgive myself." God says, "I forgive you." (1 John 1:9)
We say, "I cannot afford to." God says, "I will supply all your needs." (Phil 4:19)
The last key to victory is learning to obey what God says to do. The Jews were told "to go forward" (Exodus 14:15). As they marched toward the Red Sea, God split a path right through the middle of it, and "the sons of Israel went through the midst of the sea on the dry land, and the waters were like a wall to them on their right hand and on their left" (Exodus 14:22).
God did the impossible for the Jews, and we often need God to do the impossible for us as well. In addition to circumstances that are beyond our control, it is impossible for us to wipe away our own sins. "For by grace you have been saved through faith; and that not of yourselves, it is the gift of God" (Ephesians 2:8).
We must be willing to trust in God's immense power to forgive our sin and in the love that He has for His own. God declares: "… I have loved you with an everlasting love; therefore, I have drawn you with lovingkindness" (Jeremiah 31:3).
You don't have to wait for God to love you. He has already taken the first step of love towards you. "But God demonstrates His own love toward us, in that while we were yet sinners, Christ died for us" (Romans 5:8).
God rewarded the Jew's faith by setting them free from slavery in Egypt, once and for all. Trust that God will also reward you with peace and contentment when you turn to Him with all of your heart. Respond to Jesus Christ's invitation: "Come to Me, all who are weary and heavy-laden, and I will give you rest" (Matthew 11:28).
Want to learn more? You are welcome to join us at Bethel Chapel Church as we gather to discover more about God's amazing power and love. "Therefore, repent and return, so that your sins may be wiped away, in order that times of refreshing may come from the presence of the Lord" (Acts 3:19).