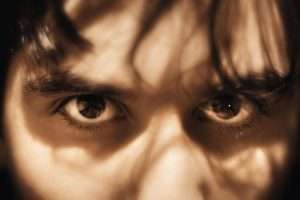 Every day we are faced with things that clamor for our attention. Some of them are necessary, like our daily routines and responsibilities. Some are not, like entertainment and casual conversations.
Did you notice that I left something out? What about God? Did you ever consider that He demands and deserves our attention, too? He deserves more than a casual glance, though. We need to gaze at Him with pleasure and wonder. How do we do that? We gaze on God by learning what the Bible tells us about Him, by talking to Him (prayer), and by spending time with others who know Him too.
We all have to glance at our circumstances, of course. There are everyday things that need our attention. Should God be treated in the same casual way that they are? The truth is that He deserves more than an occasional glance. After all, He made us, and to those of us who have given our hearts to Him, He is also the One who purchased heaven for us.
Let's take a minute to think about what can happen if we don't spend our lives gazing at God. I'm going to share an extreme example, but keep in mind how sincere these people were. Just as there are many who sincerely believe that they are OK before God, these people were completely sincere as well.
The date was November 18, 1978. Jamestown, a colony of Guyana, South America, was home to "The Peoples Temple." In this place, 913 people died in a mass murder-suicide. They died because they focused on the teachings of the Rev. Jim Jones. He was the captivating, self-appointed founder of their cult.
Jones began his religious career as a pastor in a mainstream Christian denomination, but he turned his back on what he had been taught. Instead of focusing on Jesus Christ, he wound up believing that he was Jesus Christ.
The followers of Jim Jones killed themselves just because he told them to. How could a group of people be so deluded that they would commit mass suicide? Here is the answer: Instead of focusing on the truth about God, they focused on a man instead. Remembering that horrific incident reminds us that it is dangerous to gaze at anything other than God.
For most of his life, King David gazed at God instead of at his circumstances. He purposed to make God the center focus of his life. He prayed, "To You I lift up my eyes, O You who are enthroned in the heavens!" (Psalm 123:1). That focus makes all the difference.
Let's look at some of the amazing benefits of putting our gaze on God. First, God loves those who look to Him. Jesus boldly told His followers: "Just as the Father has loved Me, I have also loved you; abide in My love" (John 15:9). This love is so wonderful that it is beyond our ability to describe it. The Bible talks about "the love of Christ which surpasses knowledge . . ." (Ephesians 3:19). What a joy to know that when we repent and turn to Him, God truly loves us and that His love doesn't depend on how good we are. See Romans 4:5-6.
Another benefit is that God tenderly cares for the ones He owns. "You, O Lord, will not withhold Your compassion from me; Your lovingkindness and Your truth will continually preserve me" (Psalm 40:11). There is great joy and contentment when a Christian understands that God rightfully owns him (or her).
Because God's Spirit actually lives inside of His followers, Christians are never alone! I am so glad! Our bodies actually become "a temple
[i.e. dwelling place] of the Holy Spirit who is in you, whom you have from God, and that you are not your own" (1 Corinthians 6:19).
God also gives a deep joy to those who gaze on Him. Jesus told us: "These things I have spoken to you so that My joy may be in you, and that your joy may be made full" (John 15:11). Paul told us that God, "richly supplies us with all things to enjoy" (1 Timothy 6:17).
These stunning benefits are only available to those who fully trust Christ to solve their sin problem and who decide to put their gaze on the one true God. Notice how Jesus encourages His followers: "If anyone loves Me, he will keep My word; and My Father will love him, and We will come to him and make Our abode with him" (John 14:23).
What occupies most of your attention? What do you think about most of the time? The words to an old Christian song have the answer you need:
O soul, are you weary and troubled?

No light in the darkness you see?

There's light for a look at the Savior,

And life more abundant and free!

Turn your eyes upon Jesus,

Look full in His wonderful face,

And the things of earth will grow strangely dim,

In the light of His glory and grace.