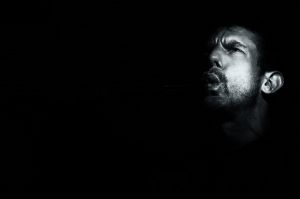 To "whistle in the dark" is an old expression that means "to summon up courage in a frightening situation in order to make a show of bravery." In other words, it means acting or talking in a relaxed way, even though you are afraid or nervous.
Putting on a brave face while this deadly virus is all around us may limit how much fear we spread, but that's not the same thing as having a genuine, inner calmness in the face of our present worldwide pandemic.
Most of us know that the number of deaths from the coronavirus is very low compared to past pandemics, like the 1918 Spanish flu–which wiped out anywhere from 17 to 100 million people. It is still scary, though, because it spreads so easily.
It would be foolish to say that the coronavirus is no big deal. That would be like whistling in the dark. People are dying, and no one knows when it will end. How can we have a peacefulness that is fully aware of reality, and yet can smile at the future, in spite of the potential harm that could come?
The short answer is a deep, inner confidence in Almighty God. Because that is easier said than done, we also need to know HOW to exercise that trust in God. That's why I'm going to share some time-tested things we can do in order to experience "the peace of God, which surpasses all comprehension…." (Philippians 4:7).
First, spend time regularly learning what God thinks. We are constantly bombarded with what the media thinks. We mentally talk to ourselves all the time, too, usually a mixture of what we've heard and our own fears and worries. We must not, on the other hand, ignore what God says. Instead of all that outside noise, we should spend regular time focusing on God's thoughts by getting to know the book He gave us: the Bible. "Seek the LORD and His strength; Seek His face continually" (Psalm 105:4). If you do that, you will discover that God's thoughts will indeed become a very precious treasure to you (see Psalm 119:11,113).
The more you get to know God's thoughts, the better equipped you will be to "Rest in the LORD and wait patiently for Him…." (Psalm 37:7).
Knowing God's thoughts involves learning, and constantly re-learning what He is like. For example, Jesus says this about Himself: "I am the Alpha and the Omega, [i.e. the A-Z] …who is and who was and who is to come, the Almighty" (Revelation 1:8). Jesus has always existed. God is not only all-powerful, He is also uniquely perfect. "Your way, O God is holy; What god is great like our God? You are the God who works wonders; You have made known Your strength among the peoples" (Psalm 77:13–14).
Belief in any old god will not do, though, especially during difficult times. Bravely believing in an imaginary friend is not that same as leaning on the Rock of Ages. "Trust in the LORD forever, for in GOD the LORD, [i.e. the eternally self-existent One] we have an everlasting Rock" (Isaiah 26:4).
Don't be fooled into thinking that a deadly virus is our biggest enemy right now. The worst thing it can do is take our physical life. Sin, on the other hand, will separate us from God forever. That is our greatest enemy because it smashes any hope of eternal life. That ought to be a much bigger concern.
Don't miss this good news: "But God, being rich in mercy, because of His great love with which He loved us, even when we were dead in our transgressions, made us alive together with Christ, by grace you have been saved" (Ephesians 2:4–5). Christ's death on the cross paid for our sins and demolished that barrier between us and God.
When we turn to Christ for His forgiveness, we have a wonderful, close, loving relationship with Him. That is the foundation of our peace in troubled times. We can boldly say, "Behold, God is my salvation, I will trust and not be afraid; For the LORD GOD is my strength and song, and He has become my salvation" (Isaiah 12:2).
You don't have to just whistle in the dark!
You can watch my live, online message to our church this Sunday at www.bethelchapelchurch.com\live, beginning at 11:20 AM. I invite you to study God's Word with us.