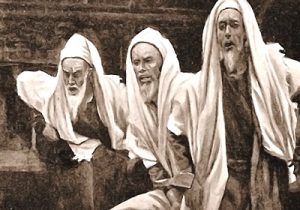 I know what you're thinking, "What kind of question is that? Nobody's perfect!" That is true, but did you know that God demands complete perfection if we are to live with Him?
Did you know the Bible teaches plainly that God will ONLY accept those who are perfectly holy into heaven? It says, "… without holiness no one will see the Lord" (Hebrews 12:14). What kind of holiness are we talking about? Peter quotes Leviticus 11:44 where God says, "… 'Be holy, because I am holy'" (1 Peter 1:16). When Isaiah the prophet had a vision of heaven, he saw strange angelic creatures around God's throne crying out "Holy, Holy, Holy, is the Lord of hosts, the whole earth is full of His glory" (Isaiah 6:3).
What should we do with the truth that God only accepts perfect holiness?
We could just give up and say, "I can't be perfect, so I'll just do my best and hope that will be good enough." That doesn't seem right because the Bible says that God's acceptance of us is "… not of yourselves… not as a result of works…." (Ephesians 2:8–9). Many other verses in Scripture teach the same thing. That can't be the right reaction.
Another way we could respond to God's holiness is the way the Pharisees, the religious leaders of Jesus' day, did.
At that time the Pharisees were very important Jewish religious leaders. They are mentioned 98 times in the New Testament of the Bible. They came into existence about 515 B.C., and their title means "separated ones." Their original purpose was to call their fellow countrymen back to obeying God's holy Law. It was largely being ignored at that time.
The Pharisees did get a lot of things right. They were very firm in their belief that there is only one God. They believed that the Old Testament Scriptures were God's Holy Word. They were convinced that angels and demons were real, and they firmly believed in the resurrection of the body.
Although the Pharisees began with very good intentions and a noble purpose, they wandered into a serious error. They taught that they could actually achieve holiness on their own, a holiness that would satisfy God.
They redefined some of God's commandments and made obeying God into a heavy burden for others to carry. The Pharisees maintained their idea of holiness by completely avoiding those who didn't observe God's commandments the way they did. They also stayed away from anyone who was practicing some kind of open sin. That opened the door to the sin of pride. They viewed themselves as better and more spiritual than the common people. They became arrogant and quick to judge others.
Jesus strongly condemned their efforts to make themselves holy. He even went so far as to tell some Pharisees, "You are of your father the devil…." (John 8:44).
Working to make ourselves more holy only breeds pride–which then makes us even less holy. What are we to do? How can we be accepted by God and live with Him forever?
The short answer to that dilemma is that there is nothing we can do! That's not the end of the story, though. God knew there was nothing we could do, and so He solved the problem. The good news is that Jesus did for us what we could not do for ourselves. "Christ redeemed us from the curse of the Law, having become a curse for us…" (Galatians 3:13).  "For what [keeping] the Law could not do, weak as it was through the flesh, God did: sending His own Son in the likeness of sinful flesh and as an offering for sin, He condemned sin in the flesh" (Romans 8:3).
Jesus took our sin on Himself so that He could then cover His followers with His holy perfection. "I will rejoice greatly in the Lord, my soul will exult in my God; For He has clothed me with garments of salvation, He has wrapped me with a robe of righteousness…." (Isaiah 61:10).
Jesus is holy, and He offers to put His perfect holiness on all those who repent and put their faith in Him. See Romans 3:21-22.
Let me ask you again. Are you perfect? Your behavior in this life will never be perfect, of course, (and neither will mine!), but you can eternally have "the righteousness of God through faith in Jesus Christ [which is] for all those who believe…" (Romans 3:22).
Forgiveness is such a huge, undeserved gift that it should fill our hearts with "praise [for] the glory of His grace, which He freely bestowed on us in the Beloved. In [Jesus] we have redemption through His blood, the forgiveness of our trespasses, according to the riches of His grace" (Ephesians 1:6–7).
Hallelujah!!