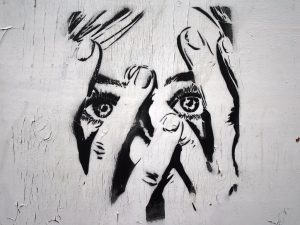 If you fear reading articles written by pastors, I hope you'll overcome your fear long enough to finish this article. The clinical list of phobias (or fears) is almost endless. Today I stumbled across a website called "phobialist.com" that lists over 530 different phobias that are mentioned in medical or research papers. You ought to look at the list. The fears that some people have can make you laugh (unless of course, you have that phobia) like Consecotaleophobia–the fear of chopsticks or Pteronophobia–the fear of being tickled by a feather. The things that really DO scare us are no laughing matter, though. For example, if you fear enclosed places, elevators are going to be a problem.
Even the rich and famous struggle with fear. Brigitte Bardot a legendary French movie star admitted, "Solitude scares me. It makes me think about love, death, and war. I need a distraction from anxious, black thoughts." Dr. Samuel Johnson, a famous English writer, and literary critic was always very careful to enter a room with his right foot first. If he ever accidentally entered a room with his left foot first, he would immediately back out of the room and come back in with his right foot first. He was also so afraid of death that he would not allow anyone to mention it in his presence. Julius Caesar, a great leader, and a military hero was terrified of thunder and always tried to be underground when any thunder sounded. Marshal Saxe, a French military hero in the 1700s, would scream in terror when he saw a cat. Peter the Great only crossed a bridge when he had to and would howl out with fear as soon as his foot touched the bridge.
We may not have any of those fears, but we all have things that trigger a sense of fear in us. How can we overcome them? Let's let a little child show us the way. When a child is afraid of a storm, what does he do? That child looks for a caring adult (hopefully mom or dad) who will hold him or her and confidently give assurances that there is nothing to fear.
How can you and I find confidence when a storm is shaking our world? The Bible boldly announces the solution: "There is no fear in love, but perfect love casts out fear" (1 John 4:18). When we truly love and trust our Creator we will find that fear is gone. David put it this way, "The Lord is my light and my salvation; whom shall I fear? The Lord is the defense of my life; whom shall I dread?" (Psalm 27:1).  The Bible assures, "His children will have a refuge" (Proverbs 14:26).
The God of the universe has more than enough power to take care of us. When God says, "Do not fear, for I am with you; do not anxiously look about you, for I am your God. I will strengthen you, surely I will help you, surely I will uphold you with My righteous right hand" (Isaiah 41:10), then we can choose to believe what He says. If we don't trust Him to do what He says, then we are disrespecting (or "dissing" as some people say) God. Who are we to have fear when God Himself has promised to help us?
Getting rid of your fear must begin with a conviction that God loves you. That's important because God's love is the only love that is perfect. The clearest proof that God loves us is that He became one of us. He was willing to live in our broken world, and then die the death of a criminal on the Cross to pay the penalty for our sin.  "We know love by this, that [Jesus] laid down His life for us" (1 John 3:16).
God has proven that He loves you. "But God demonstrates His own love toward us, in that while we were yet sinners, Christ died for us" (Romans 5:8). Have you embraced it? I hope so. When you do, you can join those of us who declare, "We have come to know and have believed the love which God has for us. God is love, and the one who abides in love abides in God, and God abides in him" (1 John 4:16). A few verses later God's Word says, "Perfect love casts out fear" (1 John 4:18). I hope 2020 will be the year that God's love casts fear out of your life.