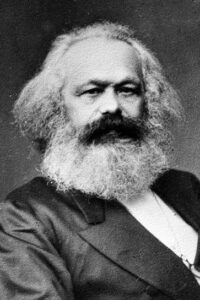 Marxism has been in the news a lot lately. The theory is named after Karl Marx (1818-1883), a German philosopher who laid out the basic ideas behind communism. He was an atheist and a racist. He viewed all religions as mankind's attempts to manufacture enough hope to somehow make sense of the world we live in. He famously wrote, "Religion is the sigh of the oppressed creature, the heart of a heartless world, and the soul of soulless conditions. It is the opium of the people." [If you want to know more, this is a link to a brief article about Marx: https://is.gd/oMuVrH]
Karl Marx was saying what many people inadvertently believe—that hope is nothing more than imaginary things we convince ourselves are true. In other words, hope is what we earnestly wish for, and our constant wishing makes it true in our own minds. That's why, for many people, having hope is more important than where their hope comes from.
On one level I understand this need for hope. Hope is something that we all want because it helps us to endure the hurtful and discouraging things that this world throws at us. If we can just have the conviction that things will probably get better, it gives us the energy to push ahead. The hope we make up for ourselves never fully satisfies the longing of our hearts, though. We need something more.
The Bible talks about a much different and a far better hope. The word "hope" in the Bible means much more than how we normally use that word in English. We use the word "hope" to refer to a blind desire that something better will happen. For example, you may have heard people say, "I hope it doesn't rain today," or "I hope I get feeling better," or "I hope I will win the lottery," or "I hope I'll get a better job."
The word "hope" in the Bible is powerful. It means having a cheerful confidence that God is good and that He will do what He has promised. It's not "crossing your fingers" or merely wishing for good things.
You might be wondering if that kind of hope is really possible. The future is completely unknown to us, so how can we be cheerfully confident about it? That confidence is a supernatural gift God gives his children. It is joyful, and it can't be completely explained in human terms. A cheerful and confident hope is a gift from the Lord who "has saved us and called us with a holy calling, not according to our works, but according to His own purpose and grace which was granted us in Christ Jesus from all eternity,[here comes the proof] but now has been revealed by the appearing of our Savior Christ Jesus, who abolished death and brought life and immortality to light through the gospel" (2 Timothy 1:9–10).
Followers of Jesus have a strong, inner hope in their hearts. Anyone can hope for less pain and more money, but those who have God's hope are "looking for the blessed hope and the appearing of the glory of our great God and Savior, Christ Jesus" (Titus 2:13). They are cheerfully confident "because of the hope laid up for [them] in heaven, of which you previously heard in the word of truth, the gospel" (Colossians 1:5).
It is important to note that God's hope is not erratic. You can always count on it because "…it is impossible for God to lie, we who have taken refuge [in Christ] would have strong encouragement to take hold of the hope set before us. This hope we have as an anchor of the soul, a hope both sure and steadfast and one which enters within the veil, [the presence of God] where Jesus has entered as a forerunner for us…." (Hebrews 6:18–20).
Karl Marx assumed that all hope was man-made. He was wrong about that (and about so many other things). God's hope, though, is a miracle that springs from His new life within us, and it will never disappear. We will "… realize the full assurance of hope until the end" (Hebrews 6:11).
What kind of hope do you have?